10 Tips for a Successful Road Trip
Happy Monday Everyone!
I recently decided to take a week off from life and go on a little road-trip. I had been feeling a little overwhelmed with work and decided that what I really needed was some fresh mountain air and a cabin with low cell signal. I needed to unplug. So I packed up the car with all my favorite goodies and headed North to Georgia and the Carolinas. While I was on the road I got a lot of questions from you guys about why I was driving instead of flying. Honestly, I really don't know. Something about heading into the woods for a week in a cabin just made me want to take the scenic route! But your questions did make me realize how many people have never had a fun road trip so I decided to give you my 10 tips to a successful and, most important, STRESS FREE road trip!
1. Don't Rush!
People always think that they need to get from point A to point B as fast as possible. Okay so in our everyday lives that's probably true. After all, we all have things to get done in our days. But on a road trip, you literally have all the time in the world. The only person rushing you is you! I guarantee if you take a second to slow down you'll feel the driving stress melt away.
2. Avoid Highways!
This is one of my biggest tips for you. During this road trip, I actually went into my GPS and programmed it so it would avoid any major roads while giving me directions and it made for a very interesting drive. I swear I was being led down backroads into the weirdest and tiniest farm towns I have ever seen but boy was it worth it! There were times where I wouldn't see another car for hours. Creepy? Maybe, but the drive was definitely relaxing!
3. Pack Snacks!
My family always jokes that the snacks for the road always get eaten before we even leave the city but its kind of true. You don't realize how hungry you are until there is food sitting next to you in a car while you are driving. Personally, I like to pack a couple of sandwiches, some chips, an apple or two, and dark chocolate!

4. Get Your Entertainment Ready!
Nothing is worse than being stuck on a road in the middle of nowhere with no cell phone reception and no radio. Download some songs or some audiobooks or some podcasts BEFORE you leave. You don't think you'll need them but trust me, it's better to be over prepared. Silence while driving leads to sleepiness.

5. Research the Area!
This sounds like common sense but it gets forgotten so easily. Know what the weather is going to be like. I can't even tell you how many times I have forgotten to pack jackets because it's always warm here in Florida! If you know what sort of activities you want to do during your trip, look them up ahead of time! During this trip, I really wanted to go apple picking but when I got there they said that picking season had been over for a month already… guess that's what happens when you don't research.

6. Don't Over Plan!
Okay so yes do your research but no don't make an actual plan. This might sound a little confusing but when you make a set plan and fill up your days, then you are completely defeating the purpose of the relaxing road trip. Suddenly you give yourself deadlines and time frames. Instead of planning, just be aware of the things you could do and let yourself just go with the flow.

7. Go Off the Beaten Path!
So I know I already talked about staying off of highways but this is more for finding things to do! I am a really big believer in staying away from tourist traps and areas that have already been photographed a million times. I mean sure there are exceptions, I am not going to go to Paris and not take an Eiffel Tower picture. But during a road trip, it is really fun if you just turn down a random road and start driving. Strat looking out your window and I guarantee you'll find amazing things. I found this little horror movie worthy church in the backwoods of the backwoods. It was breathtaking!

8. Pack a Map!
Yes, I learned this one the hard way. Your GPS will let you down. Trust me! I can't even count the number of times an address hasn't been mapped out correctly by my GPS. I remember this one time in Budapest, we ended up running in circles for hours because our GPS told us to. BUY A MAP! And even more important, look at your map and learn it ahead of time. Nothing is worse than pulling over on the side of the road and looking at a map that you have never seen before and trying to figure out where you are.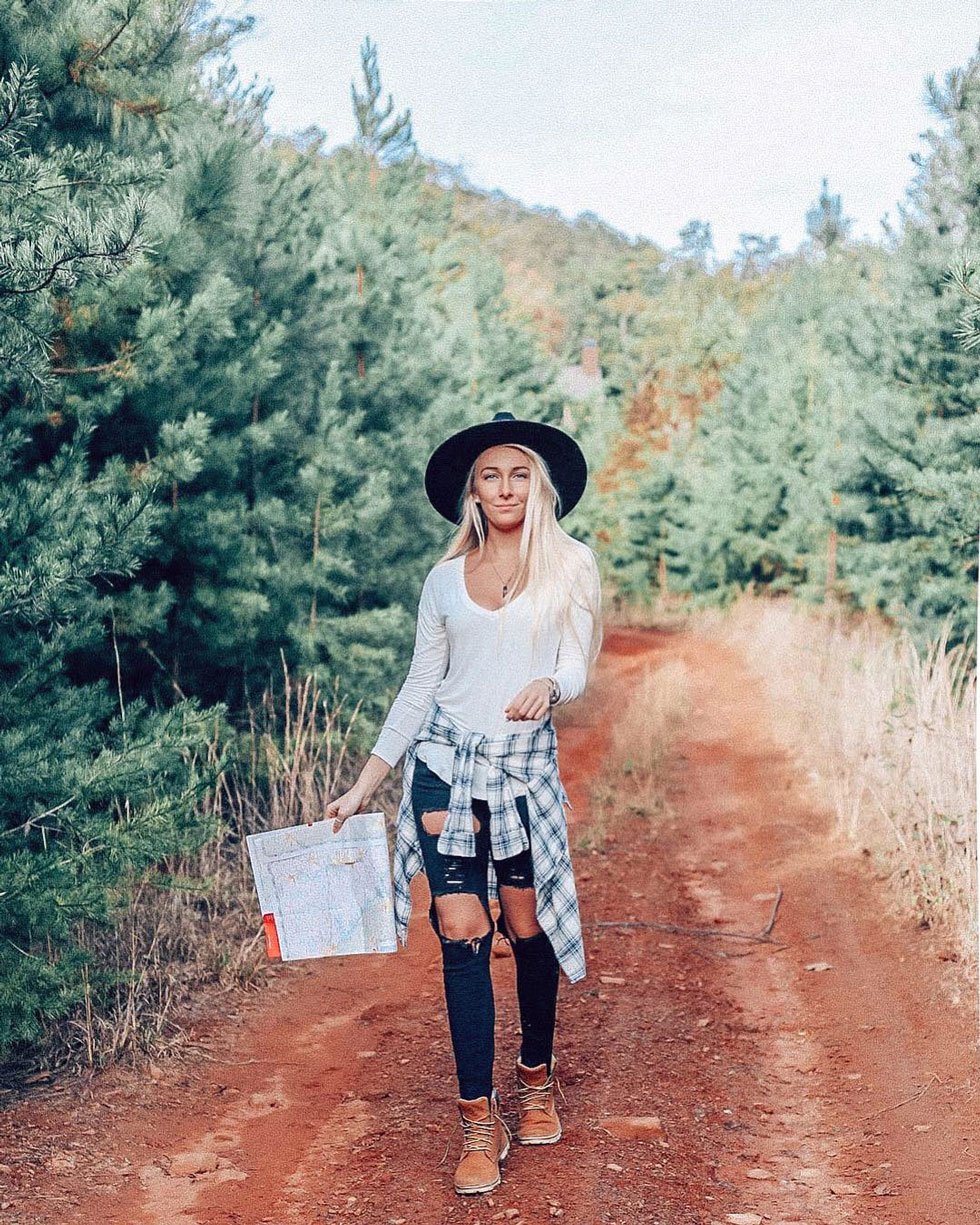 9. Spend the Night Somewhere Unique!
I can't stress enough how much I love AirBnB. I mean, it has changed the travel game completely. If you spend a little bit of time searching through it, you'll find the craziest accommodations. There is this gorgeous tree house in Georgia that is still on my bucket list! It is totally worth staying in a funky place during a road trip. It adds to the fun!

10. Try Something Different!
I have a rule for traveling, always try something new! For me that usually means try a crazy food everywhere I go because let's face it, that's what I look forward to the most! Road trips are nothing different. Every time I drive through a unique town or pass a food stand on the side of the road I try to stop and try something. This trip I got some crazy yummy boiled peanuts from this fruit shack. They were literally boiling the peanuts over an old style campfire next to the road. A little sketchy but totally yummy!