The Ultimate Florida Summer Bucketlist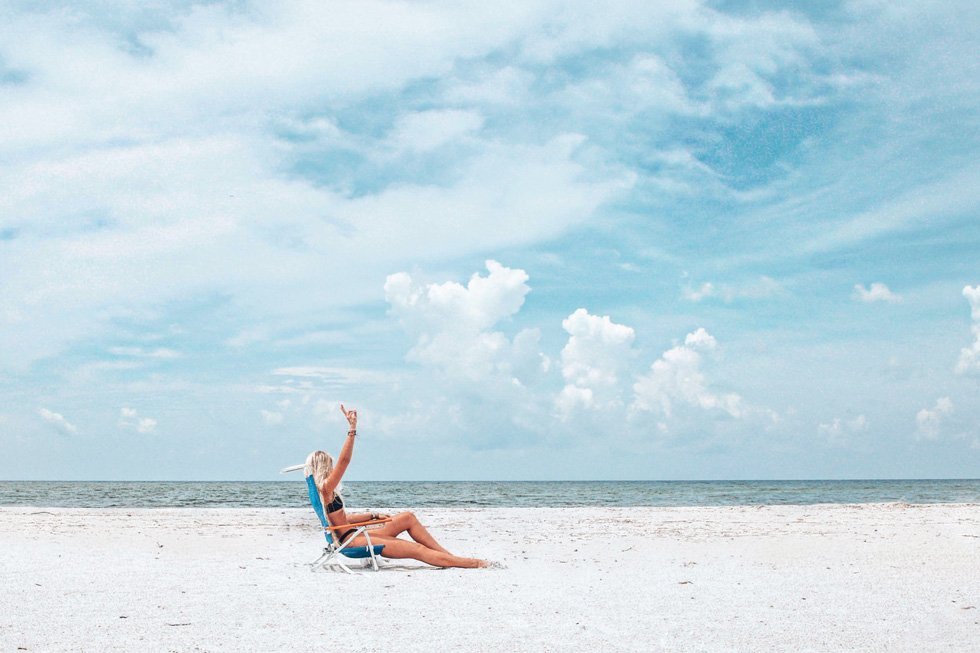 It is almost that time of the year you guys! The time when tan lines grow stronger, sunsets shine brighter, and the only hairstyle you rock are those salty beach waves! It's almost summer time! Okay so living in Florida the weather has been summer ready since about February but there is still something special about those summer months. It is like something shifts and the people all around you are suddenly on summer break. People are more adventurous, ready to fill their time with boat days, cookouts, and pool parties! If you're asking me, I am ready for ice cream dates and poolside margaritas. If you are anything like me and just want to make the most out of this summer, here are some of my absolute favorite things to do in Florida during the summer months.
Let's call it, the Ultimate Florida Summer Bucketlist!

1. Have a pool party!
This is a super easy and fun way to kick off the summer! Tell your friends to break out the White Claws because this pool party is going to be over the top. I'm talking buy an excessive amount of floaties and break out all the coolers you can find kind of pool party! If you aren't blasting loud music and riding a pink flamingo then you aren't thinking big enough!!!
2. Spend all day at the beach!
Spending all day at the beach is a must for any Florida summer but I had to mention it because I feel like it gets overlooked sometimes. When you live in Florida, going to the beach really becomes no big deal and it can be easy to forget how much fun it really is. Bring out the beach towels, umbrellas, coolers, sand toys, and whatever else you may need and actually spend the day soaking up the sunshine and the salty ocean!
Warning: PLEASE WEAR AND BRING SUNSCREEN!!!

3. Go to a Spring!
Okay so I actually haven't done this since early college so get ready for a little throwback video! But going to a spring is a must-do for any Florida summer! With the weather getting over the top hot, the cool water from the springs in Florida is the best way to stay cool. Plus they look amazing! So pack up your car and take a little road trip. My personal favorite is Ginnie Springs up in Gainesville.
4. Have a BBQ!
Who does love the sound of burgers, hot dogs, and corn on the cob? I swear nothing says summer quite like a cookout for me! There is just something about being in the sun or jumping in the pool and then listening to some music while you grill up some burgers. It is just a blast!
5. Make some smores over a bonfire!
Yes bonfires are definitely known for being fun during the colder weather. But have you ever had a bonfire in the summer? After a long day in the sun, maybe even at a spring, crack open a cold beer and roast a smore. I guarantee it will be a blast!
6. Go on a sunset date!
We all want to add a little summer romance to our bucket list and what better way to be romantic than with a date at sunset? Little fun fact, when Austin and I first started dating two years ago, almost all of our dates included nothing but a bottle of wine, a beach, and eachothers company. So break out the pinterest ideas and head to the beach with that special someone this summer!
7. Pack a picnic for the beach!
Haven't you always wanted to pretend you were in a movie and go on a fancy little picnic somewhere? No? Just me? Well If this wasn't something you already had on your list, I definitely recommend it. Packing a picnic basket full of fresh chilled fruit and yummy little goodies is the perfect extra touch for those long beach days!
8. Learn to surf!
This is actually an item that I have one my own bucket list for this summer! I am a super uncoordinated human being so I have always been way too scared to learn how to surf but Austin absolutely loves it. So who wants to join me and learn to shreeeeddddddd?
9. Eat lots and lots of fruit!
Summer is the time for you to go into fruit overload!!! Bring on the coconuts, watermellon, fresh berries, and pineapple! Think tropical fruit salad!
10. Go on a road trip!
I told you that summer was the time for adventure! One of my favorite things to do is pack up the car and head somewhere new, even if it is just for a day! I usually just drive over to the other coast so the boys can go surf.
11. Go on ice cream dates!
If you are looking for another fun summer romance idea, ice cream dates are always a good time in the summer! Or maybe you just want some ice cream with the girls... or your dog... no shame!
12. Get out into the ocean!
It wouldn't be a real Florida summer if you didn't get salty! Rent a boat, grab some paddle boards, or maybe even a jet ski. Just find a way to get out into open water and enjoy the gorgeous blue colors and endless ocean breeze!