Destinations
A Day at Weißsee Gletscherwelt
There is nothing cooler than a glacier… no pun intended! Okay but seriously, there is something about a snowy mountain landscape in the middle of the summer that is just amazing! I think it can be really easy to forget just how beautiful our world is. We get used to our surroundings and start taking them for granted. But if you take a second to just look around, you might be surprised by what you see. That's why when I discovered the gem that is Weißsee Gletscherwelt a few years back, I became instantly hooked. It was one of those spots that would leave you absolutely speechless. I don't know if it is the ice blue colors of the glacier lakes or the endless views from the top, but Weißsee Gletscherwelt is a must-see spot for me when I visit Austria.
So this summer, when I was trying to find the most beautiful spots in the SalzburgerLand area to share with you all, the glacier was first on my list. It is one of those places that you think only exists in travel magazines or in National Geographic. A spot that looks like it should be out of reach for anyone who isn't an experienced mountain climber. But that's where you would be wrong. Not only is Weißsee Gletscherwelt an absolute natural beauty, but it is also a lot easier to reach than it appears. You can even take the ski lift all the way to the top! So if you are thinking about heading to the glacier, here are some tips for the perfect day at Weißsee Gletscherwelt.
1. Bring Snacks
Priorities you guys! So obviously if you are going on any sort of hike, you should be packing snacks and some water. There is a wonderful restaurant up on the glacier that I definitely recommend stopping at for a quick bite and a beer but snacks are still great for your hike back down.
2. Wear the right shoes!
There is a difference between hiking shoes and hiking boots and if you are trying to hike around a glacier, you neeeeeed boots! The paths are very rocky and uneven. It just takes one wrong step and your ankle is history. Not to mention the gross feeling of getting snow in your shoe. No one wants a soggy shoe! So save yourself the trouble and wear BOOTS!
3. Take that last ski lift all the way to the top
When you first arrive at Weißsee Gletscherwelt, you will see most people taking the handy Gondola Lift to the top station. Of course, you can choose to hike up, but personally, I like to do it a little differently. If you take the Gondola Lift to the top station you can get out and then take another, smaller ski lift to the very very top of 2,760 meters! Once at the top, there are breathtaking paths that lead back down. It is an unforgettable experience!
4. Bring a change of clothes
The great thing about a glacier in the summer is that it is nice and cool. The bad thing is, the weather is unpredictable! While the summer temperatures in Austria run pretty hot, the top of the glacier can get pretty icy. All you need is a cloudy day and you will regret not bringing some warmer clothes for the top. Also, rain showers are pretty common during the summer so bringing a rain jacket is always a good idea!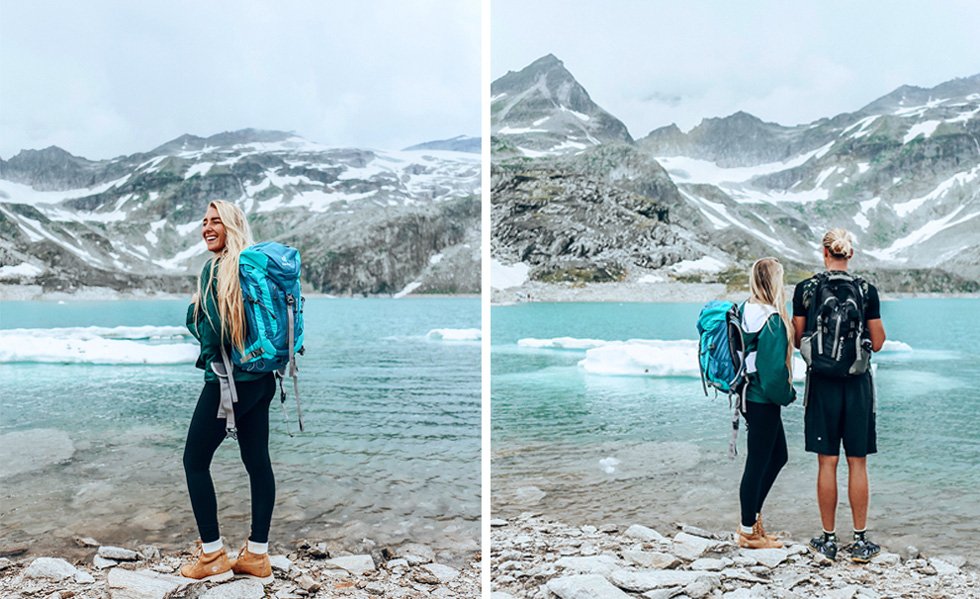 5. Enjoy the views!
Don't get so busy trying to hike down quickly that you forget to look up and take in the view! It is unreal!