Think Gypsy Hotels & Resorts Blogs
Back at Ebner's Waldhof am See
What do you look for when you go on vacation? Seems like a pretty simple question right? We go on vacation to unwind from our everyday lives. The thing is, everybody unwinds differently. Some go on extreme adventures while others breathe in the cultures of a new country. Me, I go anywhere there is a spa!! In my eyes, the best way to unwind is to spend the entire day in a fluffy robe and slippers, hopping from sauna to sauna… the only thought in my head being whether or not I should get a massage now or later! What can I say, if I could spend every day in a bathrobe I totally would.
part 2
So with that thought, let me tell you about Ebner's Waldhof Am See!
If you have been following along for a while, then you may recognize this beautiful hotel from my stay there last year! Nestled right along the banks of Fuschl See, Austria, Ebner's Waldhof definitely holds a special place in my heart. Last year, Austin and I came here to enjoy a winter wonderland. We packed our day with as much snow action as we possibly could, from sledding to snowball fights! But the one thing we didn't get to take advantage of was the spa…
Now, this isn't just any spa. Yes, most hotels around Austria are equipped with a beautiful haven of relaxing services but Ebner's Waldhof is something completely unique. But before I get ahead of myself, let me show you around and give you a little Eber's Waldhof 101.
You know that feeling when you book a room and you are just praying that you are going to get a good view? Well, something that I personally found really cool about Ebner's is that EVERY ROOM has a view of the lake… that's right, every single room! The way that the hotel was constructed, the back of the buildings are built right up into the mountain. This way, all the rooms are located on the same side, all facing the lake! There are literally no bad views.
During this trip, we got to stay in what they call the Tower Suite. Yes, it is actually located in a tower, with a balcony that looks like it is straight out of a fairy tale! Not a bad spot for breakfast huh? (PS you can get breakfast delivered straight to your room every morning at no additional cost).
Now let's talk about food. You know me, food is everything!! So you can imagine how happy a 5-course dinner makes me. Every night, a 5-course menu is designed for all hotel guests. You simply come down to the dining rooms, get escorted to your table, and begin your night of delicious goodies! Little added bonus, they do have different options for those who prefer vegetarian dishes.

Not to toot my own horn, but I was diggin these food pictures so I hope you like them too!
Okay, I think I've kept you waiting long enough, let me tell you about the spa! Let me start by saying that the spa is so big and intricate, I actually got lost the first time I wandered through the rooms. The spa and water world at Ebner's Waldhof actually stretches across three stories of the hotel. That's right, not one not two but THREE STORIES of pure relaxation. On the most upper level, you begin with the spa reception. Here you will find all sorts of treatment rooms for massages, aromatherapy, and relaxation techniques you have never even heard of! There is also a beautiful quiet room that faces out to the snow where guests can lay in-between their treatments or just come to enjoy the silence.
Walk through the door next to the silent room and you begin your journey into spa world! Okay, it's not actually called that but it might as well be. The first sections going to be the glacier pool and sauna. You walk into this room and find a giant mountain rock environment with a crystal clear natural pool in the middle. The pool is filled with pure glacier water, talk about FREEZING! But you also have a sauna right net to it, where different aromatherapy sessions are held throughout the day, as well as a small hot tub. And then, there's the pine tree room. This little room is literally filled with fresh-cut pine, all different kinds, that are continuously sprayed with a mist of water to bring out the most intense scent. I don't know how to describe it other than saying it smells like a fresh forest on a foggy day, heavenly!
Still with me? Okay, let's walk down the stairs then. Down on the 2nd level of the spa, you are going to find a nude area. (All of these pictures were taken without anyone present of course). This section of the spa is going to be all the different saunas, steam rooms, and showers! You could literally spend hours in here and not be able to do everything.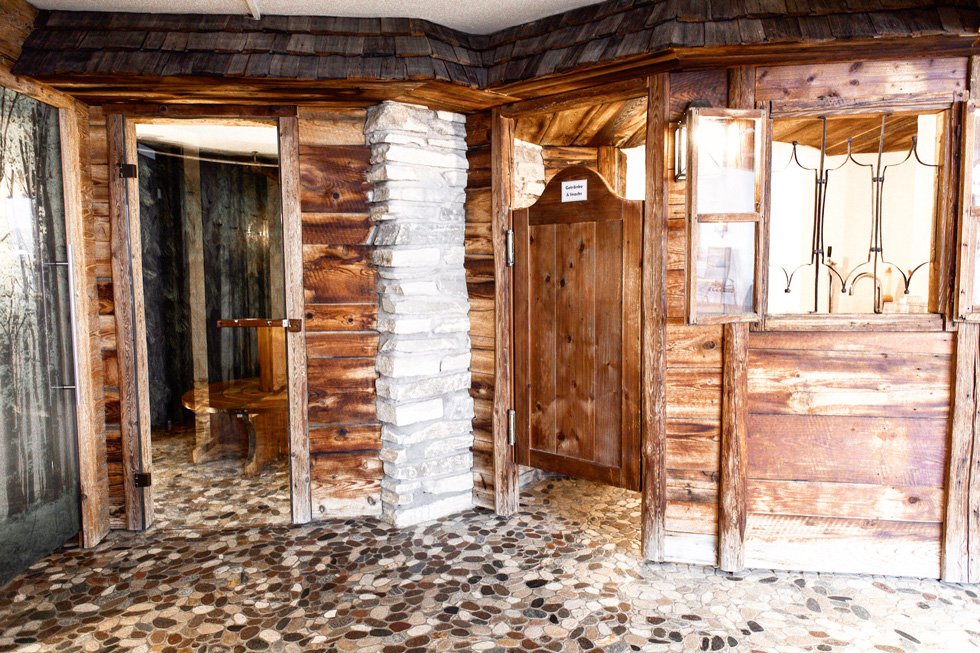 Then we get to the water world! And yes, it is actually called that! The lowest level of the spa is going to consist of all of the pools. There are two different pool sections. The first is going to be the large indoor pool. It has different levels and even a little whirlpool spot. It is perfect for those rainy days. The second room is filled with lounge chairs and a little entrance that leads to my favorite part in the entire hotel… the outdoor pool! I don't know why, but something about swimming in a heated pool under the falling snow just feels like a dream come true to me!
And that brings us to the end of my rambling for today. If you made it all the way through then you now know why Ebner's is so special! It isn't just any spa hotel, it is a hotel that literally aims to give its guests the ultimate experience. If you want luxury in Austria, this is the spot for you!