Think Gypsy Hotels & Resorts Blogs
Palm Tree Paradise at Ritz Carlton Key Biscayne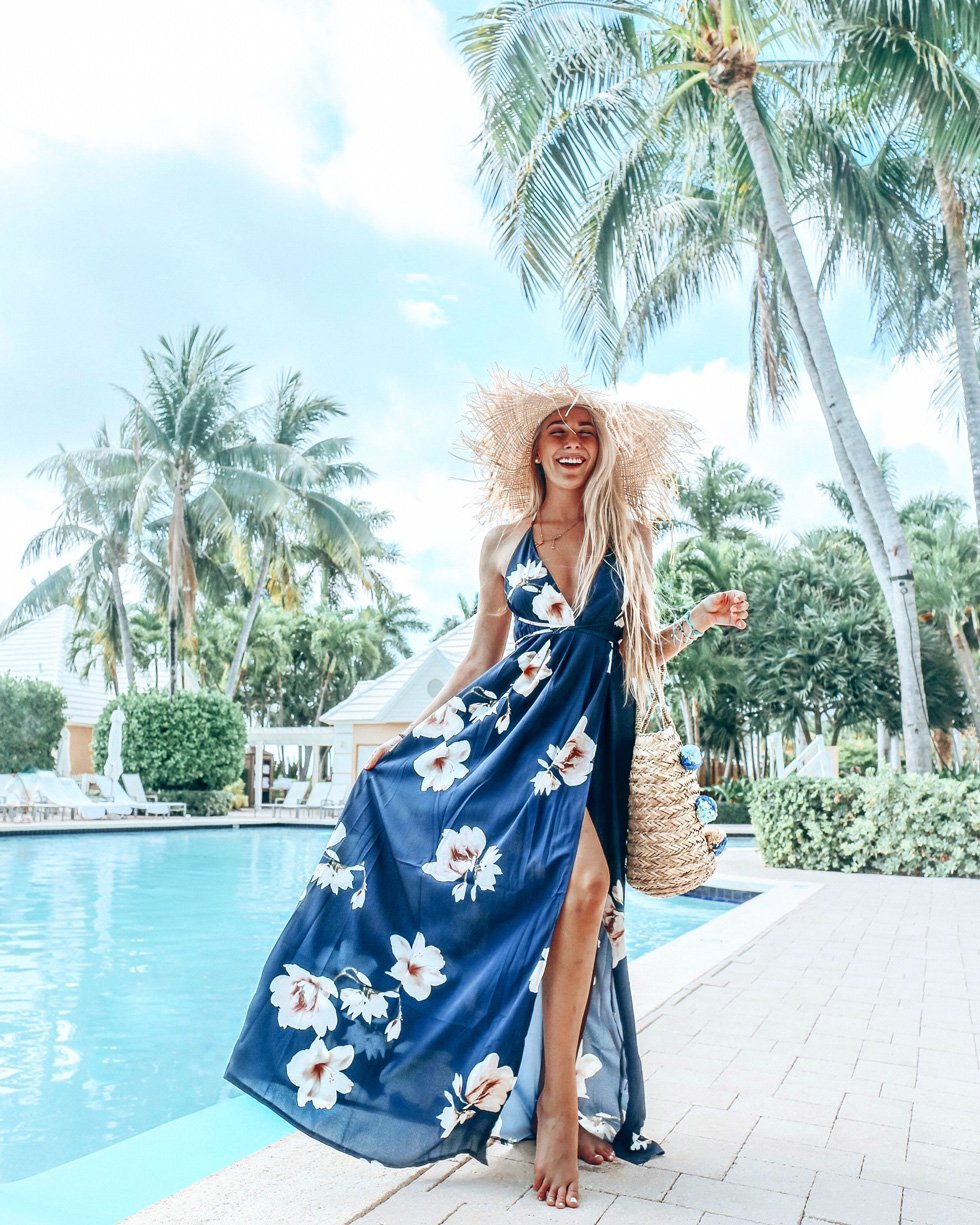 Picture this, you get up in the morning and walk across the room. You push aside the white flowing curtains, step out onto the balcony, and look out over the horizon. All you hear is the gentle sound of the swaying palm trees as you feel the cool, salty breeze blowing in from the ocean. The warm rays of sunlight kiss your cheeks as you wake up in tropical paradise. Sounds like a dream doesn't it? If the Ritz Carlton Key Biscayne isn't your new happy place then I don't know what is! After spending just three days at this hotel last week I can say for certain, I am a palm tree, beach paradise, marble luxury kind of gal. From start to finish, the Ritz Carlton Key Biscayne was an experience I will never forget.
Upon Arrival
I have never been much of a big city girl. I get stressed out by all of the traffic, especially when I am trying to follow the instructions of a GPS. So if you ever have to get into a car with me while I am trying to navigate the one-way streets and criss-cross highways of Miami, you are in for a treat haha! Anyways, driving across the bridge from Miami to Key Biscayne felt like we were driving through a portal. The area went from high rises and city lights to palm trees and beach vibes. If you have never taken the trip over to Key Biscayne I recommend it. It has a very Caribbean feel to it.

We drove through the gates of the Ritz Carlton Key Biscayne and were immediately greeted by the friendly bellhops and escorted inside. There really is something unique about checking into a Ritz Carlton. Maybe it is the gorgeous details, maybe it is the helpful staff, or maybe it is the cute little fruit infused water that every one of their hotels seems to have right when you walk in! It is as if they have discovered the secret to luxury.
Inside the Room
Our room was already waiting for us so we didn't hesitate to get all settled in! I had barely gotten through the door when I saw it, the view. Across the room, the curtains had been drawn to reveal what I can only describe as my dream view. The blue sky, the turquoise water, and the green palm trees. I think I stood on that balcony looking like a cartoon character with her mouth dropping down to the floor.

After taking a few moments to pinch myself and make sure I wasn't just dreaming up this view, I went back inside to actually explore the room itself. Everything was decorated in a luxury ocean style. It reminded me a bit of something I think the little mermaid would like if she was real and lived in the 21st century. In other words, it was stunning! And as if I needed any more reasons to be happy, waiting on the bed was an adorable welcome package with lots of goodies and even some fresh baked cookies and milk. That is it, I am spoiled. My boyfriend needs to take notes because I now expect cookies and goodie bags to be waiting on my bed when I get home everyday!
Club Level
For those of you who remember my stay at the Ritz Carlton Sarasota, you already know all about club level. But for anyone new to the party, let me give you a quick rundown of all the benefits that come with the club lounge. So when you book a room at a Ritz Carlton you have the option of booking at club level for an extra fee. With this fee, you gain access into the club lounge which at Ritz Carlton Key Biscayne is located on the 9th floor. The point of the lounge is to offer guests an elegant oasis in which they can truly unwind. You'll find things like complimentary culinary experiences throughout the day as well as a personal concierge service. Not to mention, there is always an amazing view! My personal favorite feature is the food!! Serving a full continental breakfast, casual lunch, sophisticated hors d'oeuvres, and dreamy desserts; the food is sure to blow you away! If ever there was a time that I couldn't be found, I was most likely snacking on something delicious in the lounge.
Getting Creative
After we had done our fair share of exploring throughout the hotel, we got to end our night with a wonderful art installation that was being hosted at the hotel. During the month of May, the Ritz Carlton Key Biscayne was rotating several artists who displayed their work throughout the cocktail bar, Rumbar, downstairs. During our stay, the artist Fernando Chamarelli hosted an intimate Q and A to show off some of his amazing pieces. The colors were truly beautiful!
Little fun fact; I used to want to pursue art! I am a bit of a nerd when it comes to different styles of art so it was fun to break out that artsy side of myself again for one night! After grabbing a plate full of desserts and turning on a movie on HBO, I was out for the night.
Pool Time
The next morning we started our day bright and early. Getting out of bed is one of the hardest things for me but being able to roll over and see the sun rising over the ocean made it a bit easier. After making myself a waffle in the club lounge and figuring out our game plan for the day, we were off!

One thing that you should know about the Ritz Carlton Key Biscayne is that the hotel actually has two separate pool areas. One is for all hotel guests and one is a closed off, adults only area. And today, we were going to be spending the day in this 18+ oasis.
Cabana Experience
After checking in at the pool we were escorted to our own private cabana. Now I had never had a cabana experience before so I was expecting some pool chairs under a blocked off cabana and maybe some bottles of water. Let's just say my expectations were blown out of the water with what the hotel had in store for us. Not only does the private cabana come with a mini fridge that is fully stocked with different drinks and goodies, but it also comes with a giant fruit selection and an ice cold bottle of bubbly champagne. Cheers to one of the best pool days I have ever had!!!
Lunch Time
Because of our giant fruit plate and champagne bottle that never seemed to run out of bubbly, we didn't have an actual lunch. Around noon we took a little walk to the outside beach bar next to the adult pool, Dune Burgers. It looked like the perfect place to enjoy a drink at the cabana or just sit back with your friends in the lounge area!

(more about Dune Burgers here)
Dining Experience
I kid you not when I say that we spent the entire day at the pool. We checked in around 9 and said goodbye to our cabana around 4. We did get surprised by a short 15-minute rain shower but when you live in Florida, those unexpected summer rains aren't going to stop anyone from hanging out by the pool. Honestly, if I could have stayed in that comfy chair for the rest of the night I probably would have!
After a short downtime and relaxing shower, it was time to check out the hotel restaurant. The Lightkeepers, named in honor of the Cape Florida Lighthouse, is an oceanfront dining experience that offers a variety of elegant coastal dishes. We were greeted by the friendly hostess and escorted to our table on the beautiful outside patio. The tables were surrounded by towering palm trees, elegant blue accent decorations, and endless twinkle lights. It was the perfect evening setting!
(more about Lightkeepers here)
Right as we sat down our waiter greeted us, bringing with him two glasses of champagne to get the night started. He took the time to walk us through the whole menu and pointed out all the items that he would recommend. Having ordered a variety of dishes, our waiter offered to create a wine pairing to make sure our dinner was a real experience.

The food came out and let me tell you, one dish looked more incredible than the next! We started with a charred octopus than came on a bed of greens (probably my favorite dish of the night!!!). Then we moved on to a burrata and beet salad. Something about the combination of light creamy cheese and the bold flavors of the beets made this dish so refreshing. As the main course we went on to try to cobia with a side of Brussel sprouts. I am not always the biggest fish fan but what I loved about this cobia was how it seemed to just melt in your mouth. Add the slightly caramelized Brussel sprouts and boy do you have the perfect meal.
Enjoying every bite that came out of the kitchen along with every sip of the refreshing sauvignon blanc… well, you can only imagine how full we were! But the restaurant had one more surprise in store for us, dessert! Our waiter took it upon himself to bring us the most popular dessert in the house, a key lime cheesecake. You guys I have no words for how amazing this cheesecake was. No bites were wasted! A big thank you to our amazing waiter and the wonderful chefs for an unforgettable meal!
Exploring the Hotel
I think I may have still been full when I woke up. I'm serious, I don't think I have ever eaten that much and been that happy before.. ever!! After rolling around in bed for a bit, we decided to take the day shooting some content and exploring the other pool area for a bit. The kids side has a fun waterfall than runs into the pool along with a cute beach-side cantina! It definitely looked like a fun space for families to unwind and enjoy a tropical vacation.
Unfortunately, all good things must come to an end. We soon had to pack up our bag and get checked out as it was time to hit the road back home. But I do have one last thing to say about my mini vacation at the Ritz Carlton Key Biscayne. There is nothing better than having a hotel staff who genuinely want the guests to have the best experience and that is how the staff behaved here. They were always smiling and ready to help with whatever you may have needed. It was truly the perfect getaway!

Ritz Carlton Key Biscayne
455 Grand Bay Dr
Key Biscayne, Miami, FL 33149

(305) 365-4500