Think Gypsy Hotels & Resorts Blogs
Paris in Pink at La Maison Favart
Everything is more fun in pink. I swear! Anything from the pink cotton candy to pink lip gloss, the color just has a way of bringing things to life. So you can only imagine how happy I was to find a hotel that took that pink and turned it into a color of luxury. During our last trip to Paris, we were on the search for the cutest boutique hotels. It was our mission to find places that really made us feel like we were living in the soul of Paris. That is when we found La Maison Favart! Located in the heart of the 2nd District of Paris, La Maison Favart is a boutique hotel that combines the grace of the surrounding Operas and Theaters with the modern twist of the surrounding bistros and bars. And best of all, it's pink!
Okay so I don't mean the entire building is pink, but it is the color that stands out throughout the hotel. As we checked in, we were shown around the lobby and dining spaces. Everything from the couches to the tables and chairs popped with white and pink accents. It was like something right out of the cinema! The dining area details created such a charming atmosphere, I felt as if all I wanted to do was spend my afternoon sitting there drinking coffee and eating pastries.
Little tip: the dining space serves a different type of pastry every day that is available for the guests to snack on. During our arrival, there was a dark chocolate pie that was simply to die for!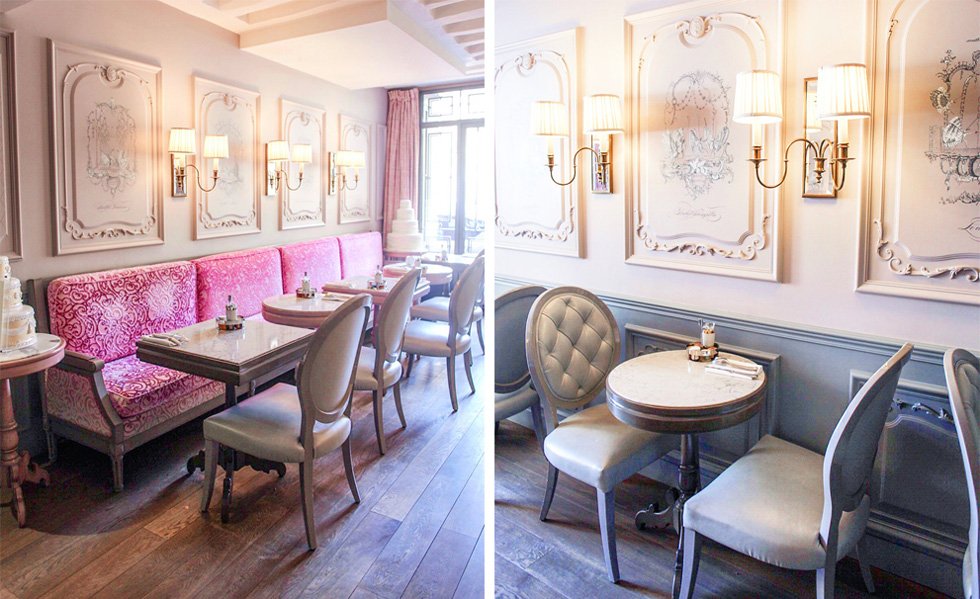 We were escorted to our room and right as the door opened I felt my jaw hit the floor, the room carried on that pink theme! From the curtains to the chairs, even the insides of the closets, everything pooped with different shades of pinks. The attention to detail was beautiful.
(Click here to read more about the rooms)
As if having a pink closet wasn't already enough to make my day, can we just take a second to appreciate this bathtub. If you have read any of my past blogs then you know how much I love bathtubs. Heck, I have booked entire hotels solely based on what the bathtub looks like. So seeing the sleek black tiles of the tub contrast with the white marble of the bathroom was an absolute dream for me. I could have stayed there all day.
We spent the rest of our day exploring and even went out to a lovely dinner with some friends who were also visiting Paris. We shared wine, food, and lots of laughs that night. Then, to top off the night, we unplugged with a quick trip to the spa. That's right you heard me, La Maison Favart has a spa and it is the perfect place to let your body recover from a long day of walking the streets of Paris.
(Click here to read more about the spa)
After a good night's rest, we woke up to the sound of room service delivered our breakfast. La Maison Favart has a special service that allows you to order your breakfast the night before and have it delivered to your room at a specific time. Brilliant! I mean come on, is there any better way to wake up than with fresh baked goods and coffee in bed? It was paradise. Not to mention, we had an amazing view of the Opera house right outside our window!
We stayed in bed that morning, just enjoying the luxurious comfort of our room until it was time to say goodbye. As we checked out, I couldn't help but think about our stay. I have always loved the comfort of boutique hotels but I have never seen one quite like La Maison Favart. From the detailed decorations to the perfectly matched colors, La Maison Favart creates a truly unreal environment. It has such a homey touch like it was designed to make you feel comfortable while still making your feel elegant!
(Click here to read more about La Maison Favart)