Think Gypsy Hotels & Resorts Blogs
Snow Covered Ritzenhof – Hotel und Spa am See
I've got mountains on my mind… no really, it's hard to think about anything else when you are standing on your snow-covered balcony, drinking your morning coffee and all you can see all around you are mountains and mountains and mountains! Good morning from the winter paradise that is
Ritzenhof – Hotel und Spa am See
!
For those of you who followed along, we spent last week at a small luxury hotel that is nestled right in the middle of the mountains of Saalfelden Austria. Something that you should know about Saalfelden is that in the winter, this is one of the ski capitals in Austria. People from all over the world come to this area to take on the slopes and the breathtaking mountains! From the slopes to the restaurants, to the hotels… Saalfelden lives and breathes winter sports! But at
Ritzenhof – Hotel und Spa am See
, it is all about relaxation!
---
Right when we arrived we were greeted with champagne and a cozy spot to sit to de-stress from our long drive in the snow! We sipped our bubbly as we watched the snowstorm blow in. The outside world was being covered in thick, fluffy snowflakes while we sat inside in the warm, stylish bar! We were then escorted to our room.
A little fun fact: the Ritzenhof – Hotel und Spa am See is actually made up of two separate buildings. One is directly on the lake while the other is across the street. But what makes this so unique is that they are connected by an underground tunnel! You can walk comfortably from building to building without having to step foot in the snow.
For our time there, we stayed in a double room Seeblick with a balcony that looked directly upon the lake! Everything outside was covered in a white haze as the snowstorm picked up! We took some time to relax before making our way over to dinner.
---
Now I have to take a second to talk about the dinner here. I have three words for you… dream come true! For those of you who have never experienced traditional Austrian cuisine, this is the place to start. From freshly baked bread to perfectly cooked Venison, if I could describe the taste of Austria, this was it! The 7-course gourmet dinner consisted of home-made bread and spreads, an appetizer, a soup, a fresh salad bar, a main course, a dessert, and a cheese platter. But what made this dinner so amazing, was that you could eat without feeling stuffed! The chefs used both timing and portion sizes to make sure you were able to experience every dish to the fullest! It was a mind-blowing experience.
---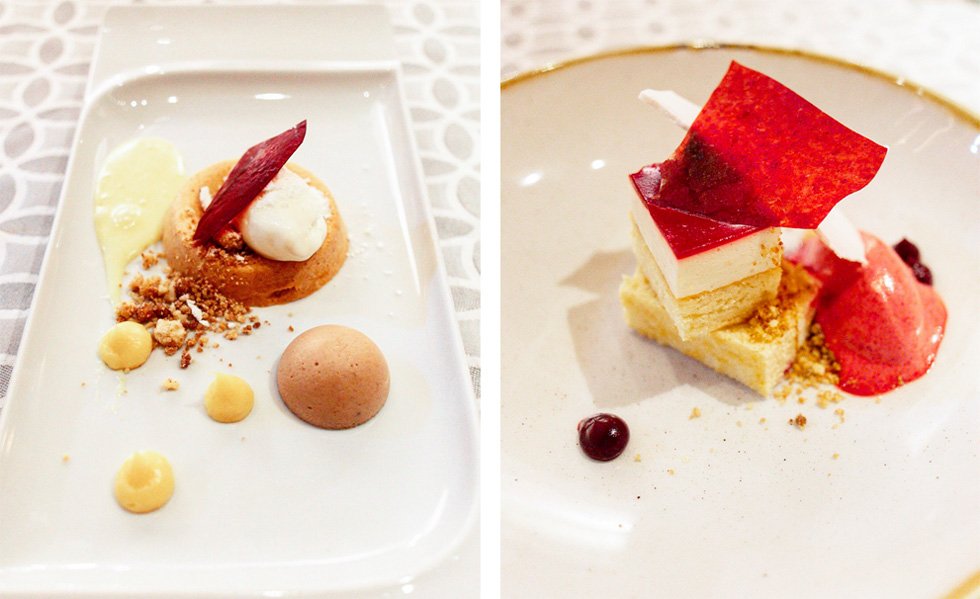 We started our next day by being greeted at our table with a little local newspaper and the dinner menu for the upcoming night. What I thought was really special about dining at Ritzenhof was that you had your own table for the entire stay. Our table was reserved with an "Edelsbacher Family" name card and was available to use whenever we wanted. It was a great way to ensure we never felt rushed during our meals.
Breakfast in Austria is probably one of my favorite things because of one important element… the bread! All of the different sorts of farm-fresh bread make breakfast out of this world! Plus, how cute are these eggs?
---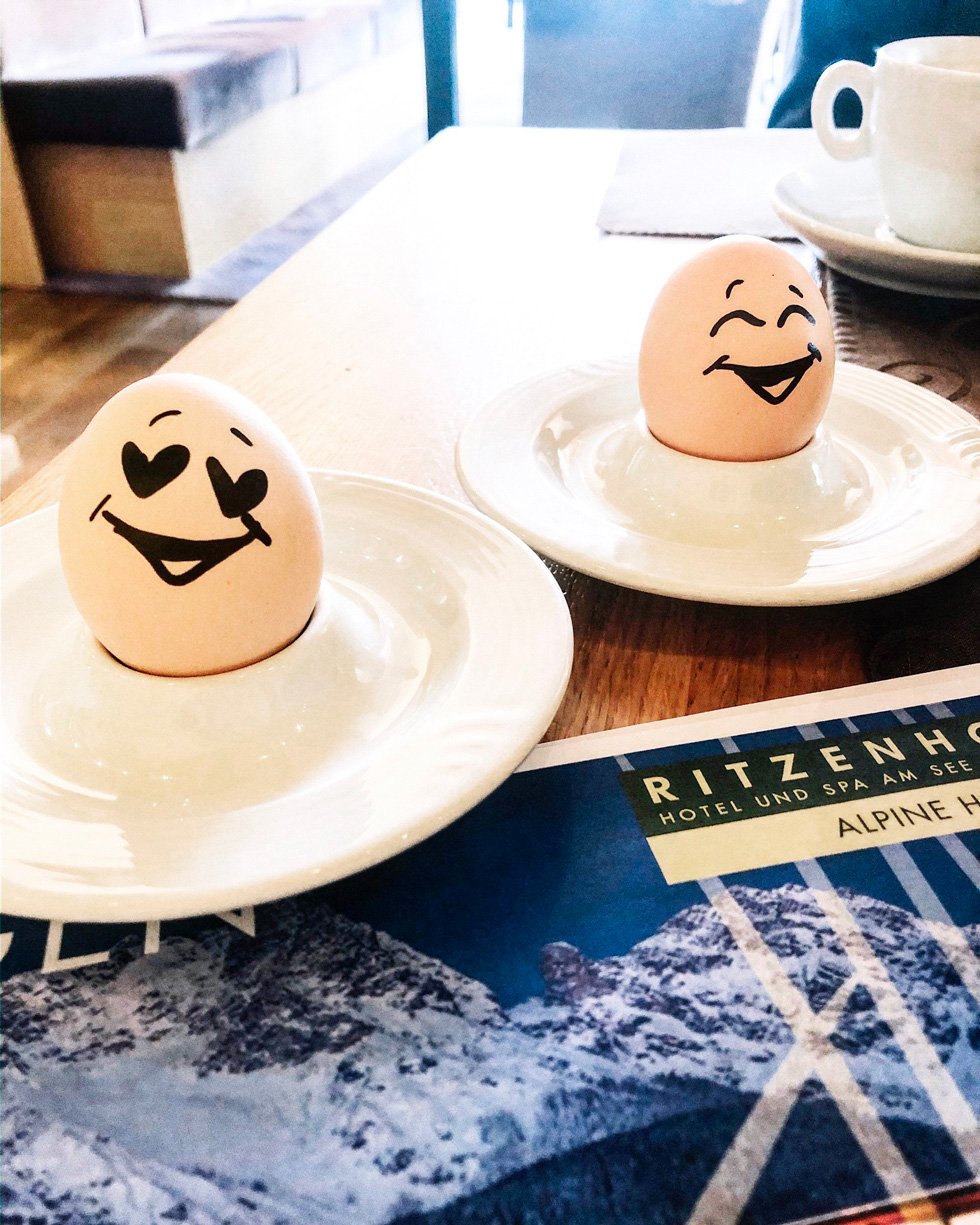 After enjoying our meal, we decided it was time to see the famous Ritzenhof spa! Filled with all sorts of saunas, steam rooms, quiet places, and a beautiful pool, the spa at Ritzenhof is what keeps people coming back! With endless treatment and massage options, there really is something for everyone. But what caught my attention right from the start was the snow sauna! Located at the very end of the nude spa, there is a sauna that is outside! With giant glass windows that face out into the snow, you can sit inside and watch the snowflakes fall. Then, once you have worked up the courage, you can run out into the cold for the ultimate winter spa experience. It was insane… and very cold haha!
(Read more about the Spa here..)

---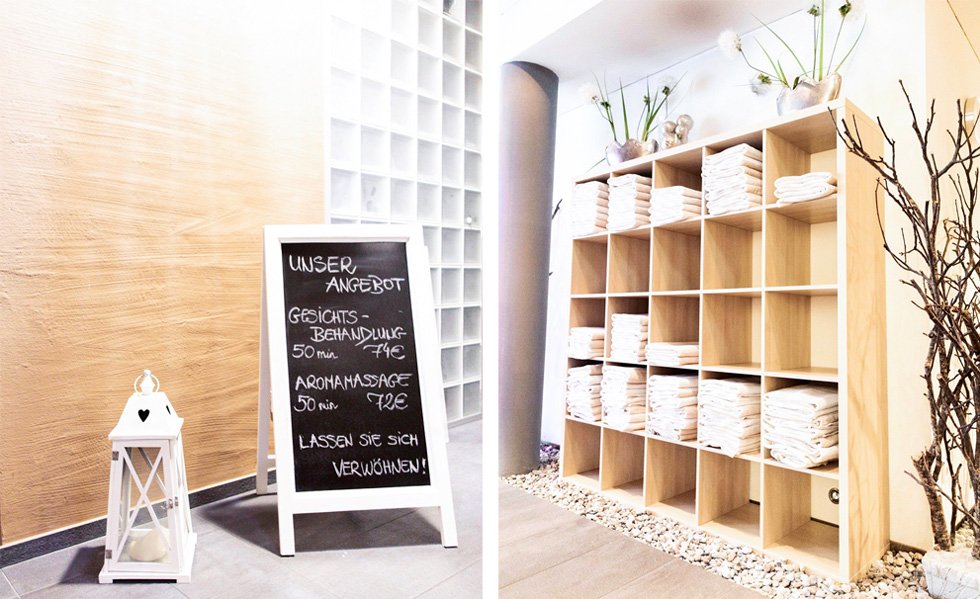 Overall the experience was filled with amazing food, epic views, and endless endless snow! Talk about a winter wonderland!
Thank you for the epic experience!!
---
RITZENHOF - Hotel und Spa am See
Ritzenseestraße 33 · 5760 Saalfelden, Austria

Email
Phone: +43 6582 73806