Forks and Corks
The forecast for this past weekend may have been rain showers but all I was thinking about was that 99% chance of wine! For those of you who missed my stories, I spent my Cinco De Mayo sampling all sorts of yummy treats and delicious wine at the
Forks and Corks festival here in Sarasota
! This premier food and wine festival is one of the most anticipated events of the season and for good reason. This year, the gorgeous event was held at the Ringling Museum of Art. It featured some of the most prestigious restaurants from the Sarasota-Bradenton area, as well as an endless assortment of world-class wines! There were even little margaritas being served in honor of the holiday!
So let me walk you through the day a little! After being greeted at the event entrance by some of the sponsors and organizers, we were handed some champagne to start our day! I don't know about you but for me, any day that starts with some bubbly is bound to be a good day. We had arrived just in time because right as we made our way into the eager crowd, the doors opened and people began flooding in!
After only a few minutes inside the actual event, I could see why everyone was so excited to get inside! The entire Ringling courtyard was filled with endless restaurant and wine booths, all serving up their specialties. If you know me at all, you know that being surrounded by this much food and wine was heaven!! It didn't take me long to grab my glass and plate and make my way through some of the stands! As I began eating my way around the event, I ran into some fellow bloggers who were enjoying their time just as much as I was.
Kahlea
immediately told me about this gorgeous sushi boat she had discovered before we decided to sample some of the gorgeous treats from
Drunken Poet Cafe
. The only thing better than yummy food is yummy food that is presented in style.
Drunken Poet Cafe
definitely outdid themselves with this stunning display!
Speaking of gorgeous displays,
Tsunami
was another spot that I fell involve with!! My inner blogger just really loved all of the flowers. But seriously, the specialty avocado roll was to die for, definitely one of my favorite sushi spots!
Aside from the gorgeous setups that some of the booths had, there was one thing about Forks and Corks that really blew me away, the variety! You know that moment when you are really hungry and you are just craving anything and everything? That annoying moment when you really can't pick a food category? I am telling you, this event would be perfect for those moments!! From sushi to barbecue, to Italian. There was something for everyone. I went from eating the most amazing cheese smothered ravioli at
Salute
to stuffing my face with the best pulled pork sandwich at
Stottlemyer's Smokehouse
. If I had to design my paradise, it would be Forks and Corks!
I mean seriously, aside from eating my body weight in goodies, I was also really impressed by some of the wine vendors. Now don't get me wrong, I am by no means a wine expert. I remember at one of my old jobs I was once asked to describe the notes of a wine and I stood there just rambling on about stone fruit and full bodies. No idea if it made any sense! But I do know what I like and there were a ton of amazing options!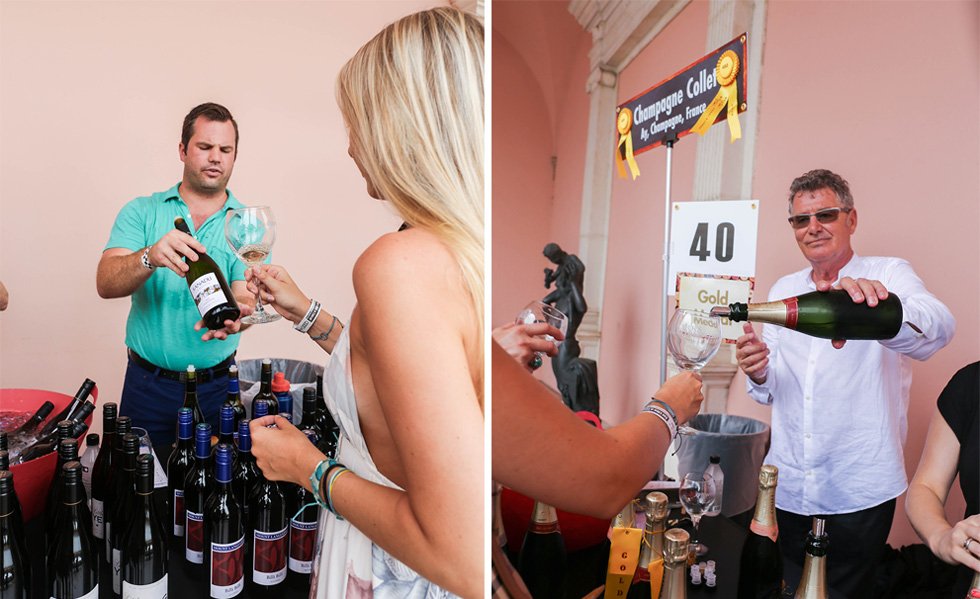 I loved being able to chat with a few of the vendors, especially Aloiz Felix Jermann from
Jermann
vineyards. He told me all about the specialty wine from the vineyard that is made from a blend of multiple grapes giving it a very unique flavor! I just might have to make a pitstop in Dolegna del Collio, Italy this summer to get some more!
Overall, Forks and Corks was an absolute blast! Even though we did have a thunderstorm roll in about halfway through, the delicious treats and the lively atmosphere was one I will never forget! A big thank you to Nori Guevara for the wonderful invitation. Cheers to a good day!