Delta Flight Tampa to Amsterdam
Airplanes are a very big part of my life. I know that sounds weird but I have been flying in airplanes since before I could walk so a lot of my childhood memories involve airplanes. I still remember flying when there were no inflight entertainment systems and when kids were still allowed to visit the pilot in the cockpit. Crazy right? Because I have been flying so long and with many different planes, I have definitely developed an appreciation for good airlines. The experience of traveling by plane can get stressful so having an airline that is genuinely there to help the passengers can make a huge difference. That is why I have always loved Delta! That is why when I was asked to come to the inauguration of a new flight from Tampa to Amsterdam and tour the new Delta plane, I was beyond excited!!
The experience started out a bit stressful for me. Because the event was being held directly at the gate, we were heading to the airport as if we were leaving on an actual flight. We left my house with plenty of time to spare to make sure we could get through security and get to the gate without having the break a sweat. Ya…. That didn't exactly work out for us. We ended up getting stuck in traffic 10 miles in front of the airport and were dead stopped for almost an hour. Arriving at the airport with only 15 minutes to get our gate passes and get through security, we were running like maniacs. Thank goodness for the organization at the Tampa International Airport. Because this is such a huge international airport, everything runs like a well-oiled machine. We got through all the security and made it to the gate like it was nothing. Best airport experience so far!
Once at the gate, Delta had set up a huge party with all kinds of yummy snacks and decorations to get everyone in a celebratory mood and ready for Amsterdam! I got to meet the two other social media creators/ journalists and the rest of the event team. Then I got handed a fun safety vest that would give us access to the plane and we headed down the walkway and into the plane!
Now please know that I am by no means an airplane expert!! I don't know all the fancy plane lingo and I am not going to pretend that I do. But what I do know is what a good flight looks like. I can tell you by looking at legroom, seat sizes, entertainment units, and overall aesthetic, what kind of flight it is going to be. So that is what I am here to do today!
I tried to go live on Instagram to give a bit of a walkthrough of the plane but I think this is going to be a much better way to explain everything. This is one of the largest delta planes that will now be flying out of the Tampa International Airport and boy does it show. Right away, as you walk inside of the plane, you can feel that little bit of extra breathing room. The Business Class area is absolutely stunning. Instead of the normal extra large comfy seats, the Business Class now has full reclining units. After sitting in one of these bad boys, it is safe to say that I only want to fly Business Class from now one. I can't even imagine how amazing the flight would be if this was my seat.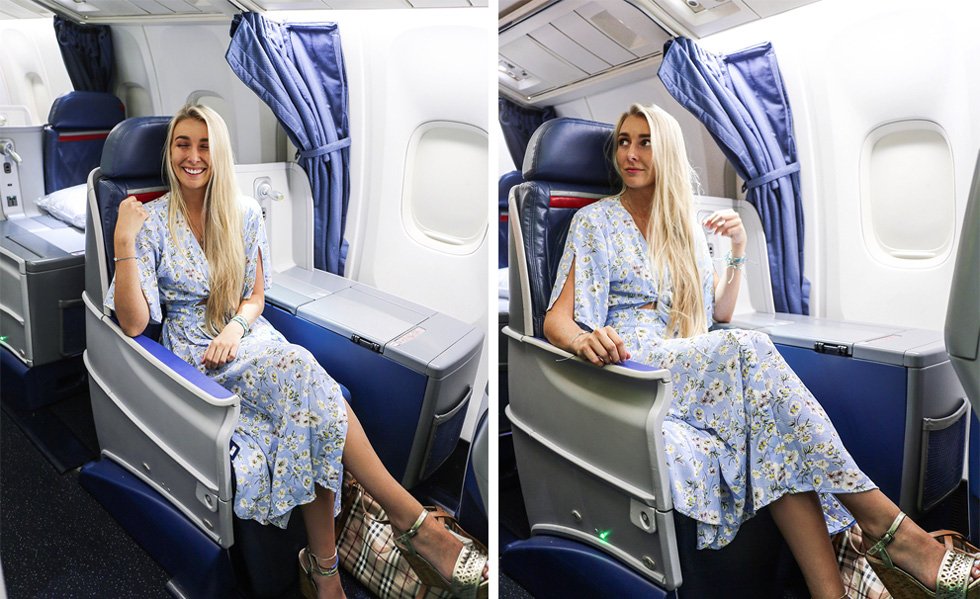 After forcing myself to get up out of the heaven that is Business Class, I headed back to the Economy Cabin. Although nothing can compare to the elegant travel of Business Class, I was really happy to see the amount of effort Delta put into the new design of this Economy section. Every single seat now comes with a full entertainment unit and comfortable legroom. It is good to know that in this day and age, Delta has not jumped on that trend of making the seats smaller just to get more individuals on the plane. Even in Economy, this flight looks like it will be very comfortable!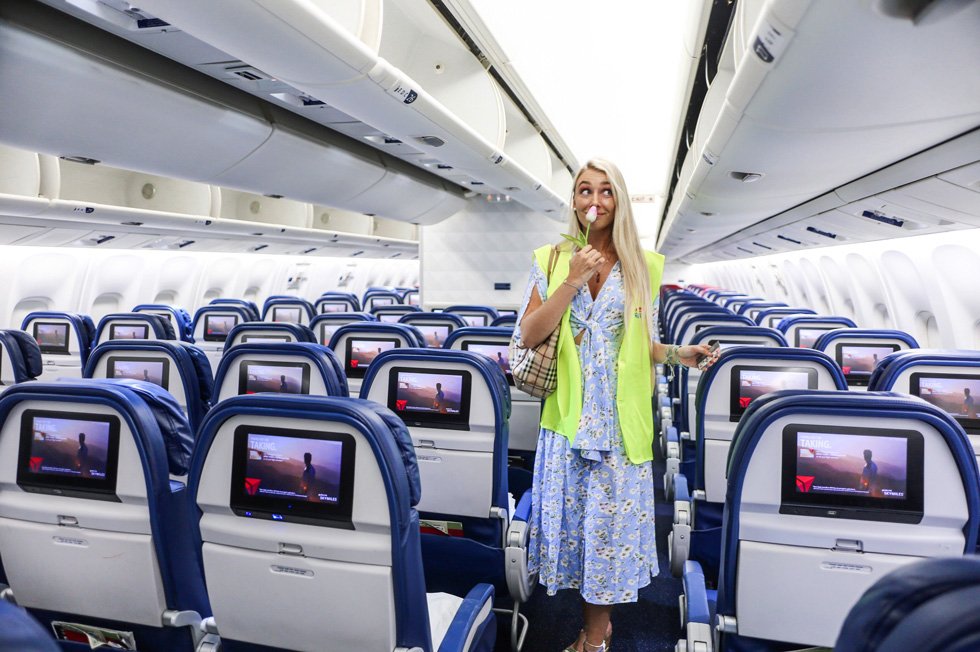 As we were getting ready to head back to the actual ceremony, we got an amazing last minute surprise. They were taking us down onto the runway to get an exclusive look at the outside of the plane. I don't know if it was the extreme wind that was blowing or if I was just temporarily stunned from standing next to this giant plane, but it was a crazy feeling to be down there! I board planes on the runway all the time, in Europe that is a very common thing, but this was so different. Having the opportunity to snap a few quick shots in front of this giant machine was one of those experiences that I will never forget!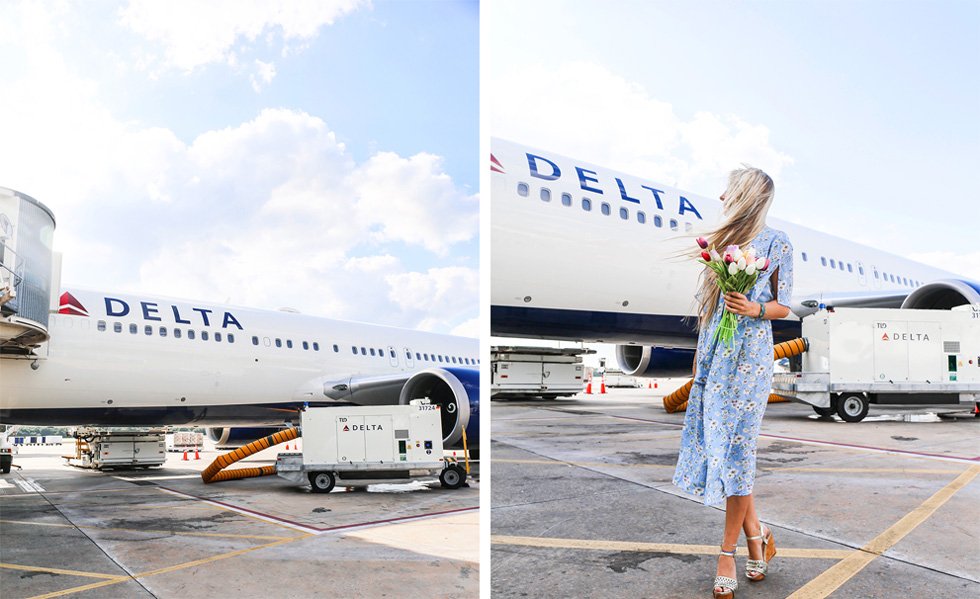 We got back inside and spent some time listening to the speeches from everyone who was involved in making this new flight possible. It was such an amazing opportunity to hear people like the Mayor of Tampa, Jane Castor, and the president of Visit Tampa Bay, Santiago Corrada, speak. Throw in the fact that they had an amazing cake and you could say I was floating on cloud nine!
A huge thank you to Tampa International Airport for not only inviting me but also hosting such a fun and unique event!