Hi Guys,

Over the past couple of weeks, I have been getting tons of messages, emails, and comments asking how I take and edit my pictures. So finally, I decided to sit down and create a photo editing guide. These are just a couple of little tips and tricks that I have picked up over the past year or so that I use in all my photos. I'll answer questions from what gear I use, to how I choose locations, to what presets I like to apply. This guide will hopefully give you some inspiration and help you find your own style! If you have any questions don't hesitate to reach out and I'll try to answer them the best I can.

Also as an added bonus, I included the exact presets I used for each edit in a link right under every picture. Shop and enjoy!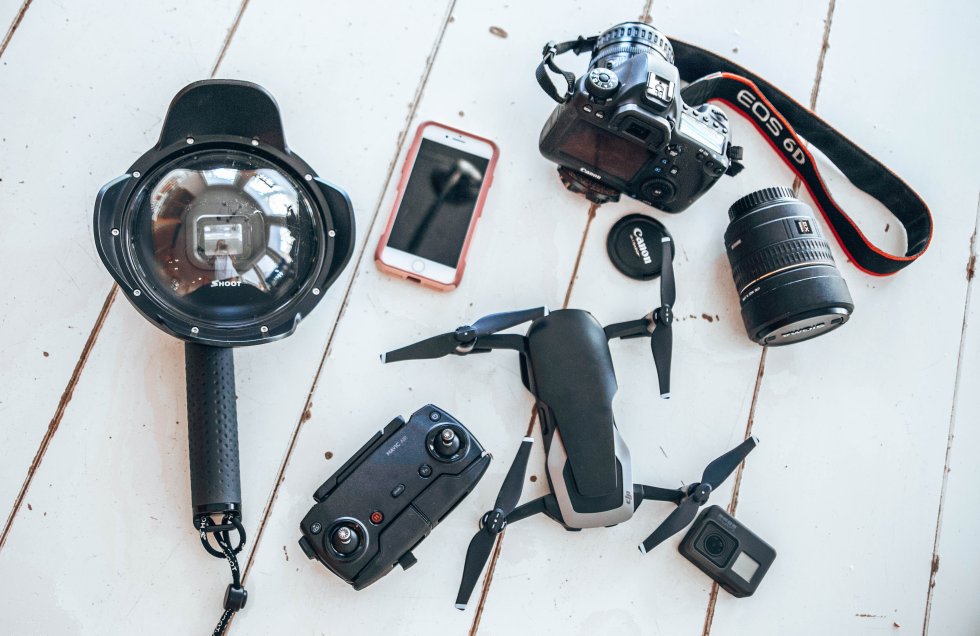 Having the right gear makes a big difference. Yes, you can absolutely shoot all your pictures using your iPhone and still have beautiful images. But your content will only be as good as the tools you use to create it. For me, everything changed when I got my first camera. The quality of pictures I was able to take made me fall in love with photography.
So what camera and lens do I use?
Let me remind you that there are so many great cameras out there and you really need to find what works for you. I have always been a Canon girl. I think their DSLR cameras are very simple to use once you get the hang of them.
My camera is an
EOS 6D Mark II
. I am still a photography newbie so I stick to two basic lenses: Canon EF 50mm f/1.8 STM and the Canon EF 24mm f/2.8 IS USM for any wide angle shots! I like having fixed lenses just because personally I feel like they are easier to handle and they sort of force you to get creative with your angles!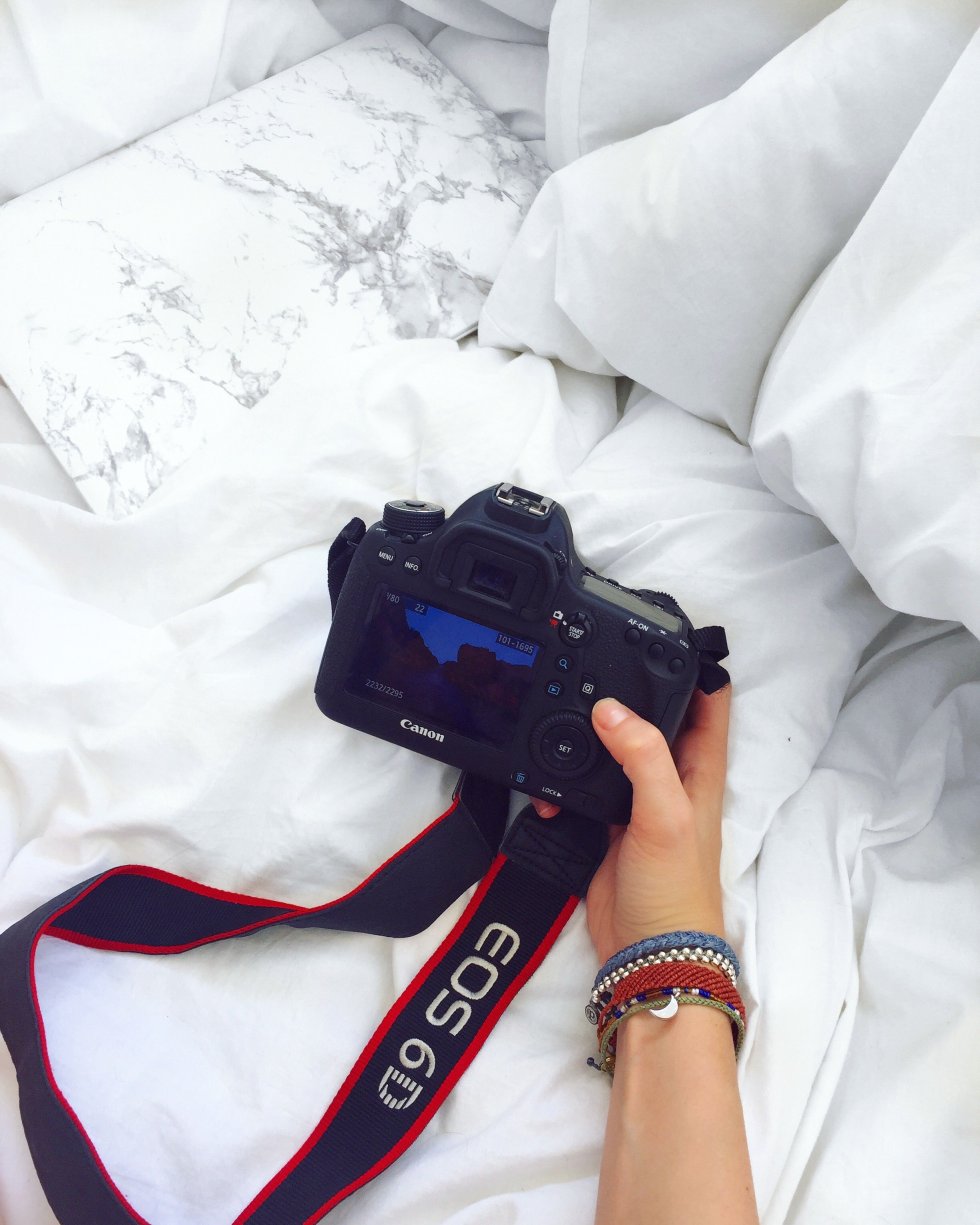 As far as other gear goes, I love working with drones and go pros. I think they can get unique angles that a camera just can't capture. I have a
GoPro Hero 6
. I also use a
Shoot Dome
that is great for when you are trying to get those half above half underwater shots. The drone I work with right now is a
DJI Mavic Air
. I also have different stabilizers for the video content we are working on but that is a discussion for another day!
People ask me all the time how I come up with the inspiration for my pictures. Let me just start by saying my favorite subject has always been art. I love being creative and I love photography! I started my Instagram and blog as a way to share my travels in a creative way. When I am on the road, it is very easy to come up with picture ideas because there are so many amazing spots around me that I want to share with you.
The number one tip I have for you is: try to think outside of the box. Yes, getting inspired by other bloggers is great, but recreating their pictures isn't the best idea. You have to find your own style and make up your own ideas. People are going to follow you because they genuinely like the content that you are posting, they like you! When I go to locations I immediately look for something that stands out. It can be a funky wall or a crazy view, anything that I think will capture someones attention!
Bonus tip: LIGHTING IS EVERYTHING!!!! Lighting can either make or break your pictures. The last thing you want is an overly bright picture with lots of crazy shadows. I like to shoot early in the morning or late at night. I think it gives a very soft and clean light that also makes editing a lot easier. However, when I am out and about exploring the world I can't always pick my times so I try my best to work with angles that aren't going to be too affected by the sunlight!
Before I dive into this I just want to remind you guys that Instagram is not always reality! When you edit a picture it is no longer just a picture but it is a form of art. It is content that you have created to share with people who are interested in it. Not everyone is going to like what you post and that is completely okay. Everyone has a different taste and the editing style will directly reflect that. Personally, I like to manipulate the colors in my pictures to keep a very positive and bright theme!
Okay, here it goes: my tip for you is lightroom, Lightroom, LIGHTROOM!

I know you hear it over and over again, use Lightroom CC. So, you open the application on your computer and you stare at all the tools, numbers, and symbols and you think to yourself, what the * do these do? Yes, I know Lightroom CC can look overwhelming but I am telling you it is worth learning how to use. When I first started taking pictures and editing I was using apps on my phone like VSCO. These apps are really great and really fun if you are just starting out. But if you are looking to take your work to the next level, Lightroom CC is essential. Look at the difference between the pictures I edited with VSCO and the pictures I edited in Lightroom CC….

Now that we have all decided to give Lightroom CC a chance, it's time to dive into the next big question I get, what presets do I use? When you first begin editing with Lightroom CC, it can be hard to figure out how to get the exact "look" that you have in your head. Thankfully there are a ton of bloggers out there who are willing to share their exact editing settings with you to help you find the style that works for you. Over the last six months I have developed 10 basic settings that really help me make my whites stand out and my blues pop! I am all about the crips clean colors! If that is the look you want:
Shop here!
Once you have gained a bit of confidence and a better understanding of Lightroom CC, it is really important to start developing your own presets. You want your content to be recognized as your own and the best way to do that is to have a unique editing style! I am currently working on new presets for different environments so I can bring my style all over the world. People have asked me how I get the vibrant colors and crisp whites. Simple, I work with hues and luminance. There is a section in Lightroom CC (HSL/Color) that allows you to change the hue and intensity of a color and that is my absolute favorite part of editing with Lightroom CC. I stick to the blue and the aqua section because those are the colors I really like to bring out.
Here is the step by step guide to how most of my editing is done!
Step 1: find a good location and good lighting
Step 2: shoot in RAW images, it gives you more control over the color in Lightroom
Step 3: import pictures into Lightroom CC
Step 4: apply
my presets
Step 5: work with the blue and aqua hues to make them a more tiffany baby blue
Step 6: change the luminance, contrast, and brightness to make whites pop
Step 7: export and upload to Instagram
Step 8: make last-minute tweaks on Instagram
(I usually increase the saturation and brightness until I think it is vibrant enough)
Step 9: DON'T OVERTHINK, JUST POST!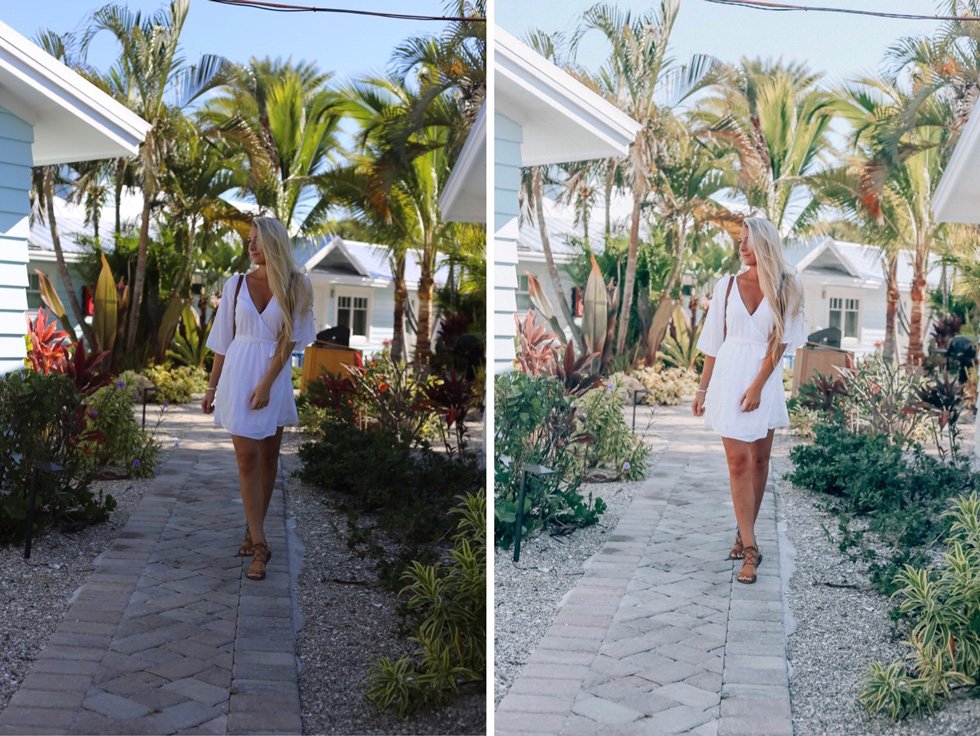 I know learning to edit can be a long and tedious process but I hope this guide helped a little bit. The most important thing to remember is that at the end of the day, there is such a thing as too much editing. If you keep overthinking and tweaking little things, eventually you will drive yourself insane! Just start small and download a couple of presets. Don't try to master Lightroom all in one day, but try to learn a little over time! Again if you have any more questions, I'm right here to answer them all(: